Playing one of the best teams in the world on their day must be a pretty daunting experience. A team like Barcelona, when they're on form, must be a terrifying proposition for even the most experienced of teams. No amount of drill practice, training sessions or fitness preparation can match old fashioned team chemistry. Even when team chemistry fails, Barcelona have players such as Messi that can produce a moment of individual brilliance and turn a game around in an instant. Pair Messi with Neymar, and stick Luis Suarez in the middle for a bit of bite up front (see what I did there?) and you're dealing with one truly ruthless team.
Celtic found this out last night in the first match of their group stage in the Champions League. Brendan Rogers has been enjoying a return to form of late, although it could be argued that being manager of Celtic is a little like being manager of a team of adults in an under twelve league- you're guaranteed to win. Domestically, that is true, although Celtic demonstrated tonight that they are still a long, long away from being considered among the elite teams in Europe. Within seconds of their match against Barcelona, they gave away a corner, and just a minute or so later, the Spanish giants were ahead courtesy of that man, Lionel "he scores when he wants" Messi. I don't need to write a blow by blow account, suffice to say that Celtic looked weak, although they were awarded a penalty from their one lone attack at Barca's goal. But ot just wasn't going to be their night. Moussa Dembele (the French striker, not the Belgian midfielder) hit the shot straight at the keeper, and their chance to level the score disappeared. At this point, they totally fell apart, letting in a further six goals and finishing the match on the end of a 7-0 defeat. Now, goals change matches, especially when you're playing away to Barcelona. Had Dembele scored the penalty, it would have been 1-1, and chances don't come that often for away teams at that formidable stadium. It could have changed the mentality of the game.
Then again, considering how dominant Barcelona were, there is just as much chance that the goal would mean nothing, and it likely would've acted as nothing more than a slight consolation for a difficult away night. One gets the feeling that nothing would have denied Barcelona the emphatic win they achieved last night. Whilst I feel nothing but sympathy for Celtic, who have been taught a harsh lesson in European football right from the get go, there is really no excuse for the way their heads dropped after the penalty miss. They looked lost, running around with no purpose. They marked eratically, with Neymar and Messi being given way too much space to operate. These players are world class, and they'll create chances no matter what, but if you just sit back and let them play, you're essentially inviting them to embarrass you profusely. That's what Celtic did. They sat back, nervously defending, until another mistake led to another goal- although admittedly a lot of Barcelona's goals were also products of nothing but sheer brilliance.
Later in the match, Barcelona decided to stop playing games. They brought on Andres Iniesta off of the bench. The bench! Only a team like Barcelona could look to their substitutes bench and have a player like Iniesta waiting to come on. Most teams would commit atrocities to have a player of his calibre, and here are Barcelona, resting him on the bench. It says a lot about their quality that they didn't need to call on him- at this point they were already on their way to a comfortable win.
For Celtic, there is only one positive- the most difficult match in the group stages is over. They won't have to face Barcelona away from home again. The next time they play them will be at home, and they will likely already know their fate by that point, rendering the match a dead rubber. Next up in Europe for them are Manchester City, which could be another difficult test for them- although any result would surely be considered an improvement when compared to losing 7-0. For me, the idea of introducing the likes of Celtic into the Premier League- an idea that is still being discussed- is farcical. Whilst Man City might have lost to Barcelona in such a mood, it certainly wouldn't have been by such a heavy scoreline, and not in such a disappointing fashion. Especially not with Guardiola at the helm. It goes to further back up my point that Celtic would be humbled over and over again if they were to enter the English divisions. Barcelona would good, but Celtic were also very poor.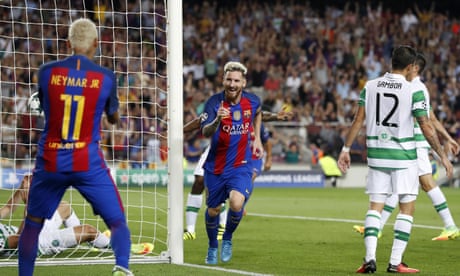 And what is it about teams that play in green and white and disappointing results? At least it wasn't Yeovil this time!